About the Euclid City Schools
The Euclid Schools educate approximately 5,000 students throughout nine school buildings. Our programming begins with Euclid's youngest learners at the preschool level and extends to the twelfth grade. We have one Early Learning Village, four elementary schools, one middle school, one high school, one educational options center and one alternative school.
A Message from Superintendent Christopher Papouras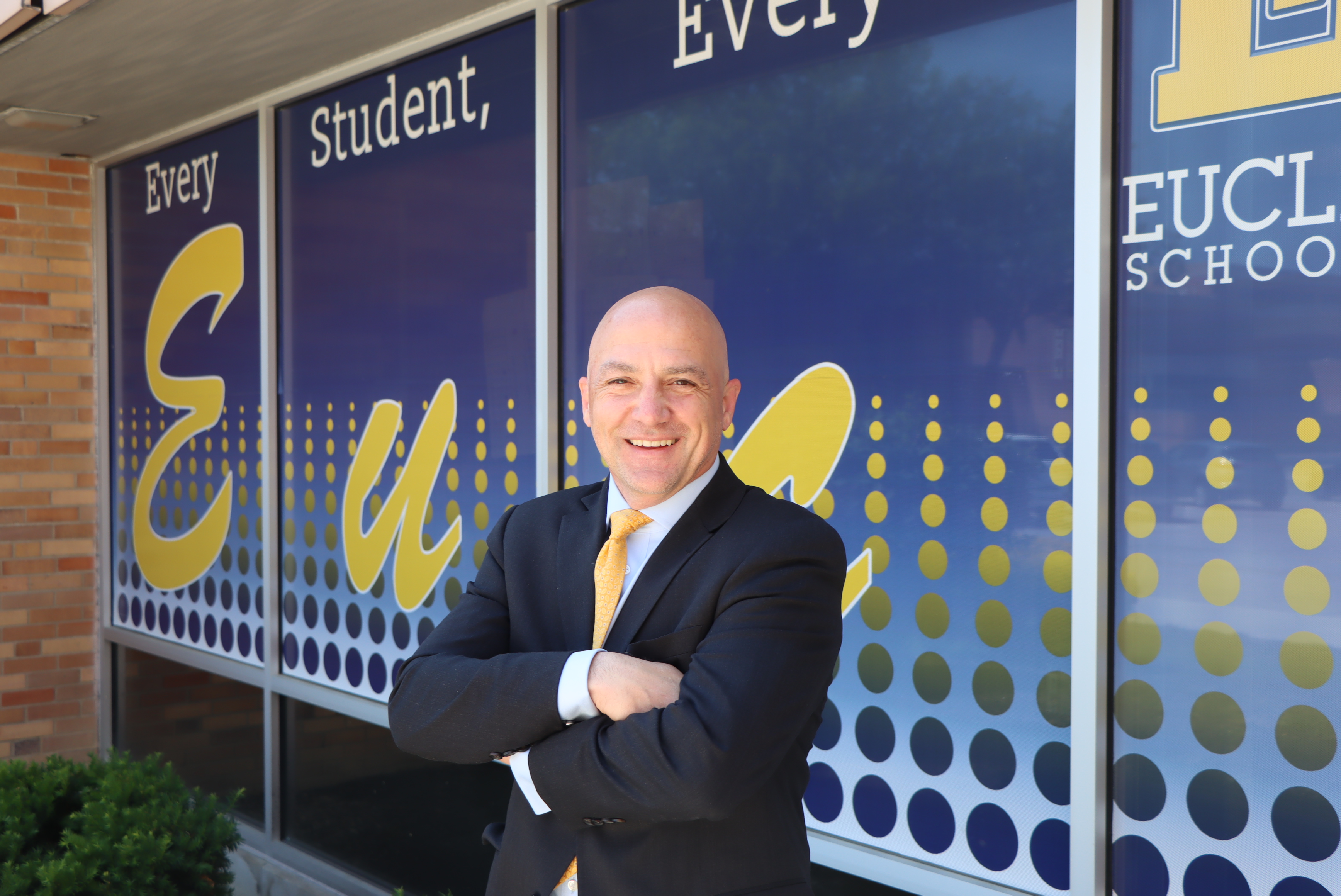 Welcome to the exciting new school year, 2023-2024, at the Euclid Schools! We trust you've had a wonderful and refreshing summer break. We're eagerly preparing for your return to the classroom and can't wait to embark on this educational journey together. Our dedicated teachers are enthusiastic about fostering your child's academic growth and crafting memorable lessons that will resonate for a lifetime.
As many of you are aware, our school is fortunate to be led by exceptional administrators. Our principals and assistant principals are dedicated professionals who prioritize the well-being and development of our students. Alongside them, we're proud to have an exceptional team of teachers and support staff who truly shine in their roles.
Together, we've laid a strong foundation for sustained student success. This includes introducing new curricula, enhancing learning materials, modernizing our facilities, and adopting a unified PK-12 instruction model based on Explicit Instruction. This commitment to quality education is reflected in our recent State Report Card, where we not only met state standards in bridging achievement gaps but also exceeded expectations in academic progress. We eagerly await the release of the new District Report Card, which we'll gladly share with you.
Since assuming the role of Superintendent in 2020, we've witnessed a remarkable 6.7% increase in our graduation rate. Despite the challenges posed by the pandemic and the opening of a new High School, our students' success continues to soar. For example, our Career Tech students are achieving an impressive graduation rate of 99.2%. This progress is a testament to the hard work and dedication of our entire school community.
To cater to the diverse needs of our students and families, we've introduced a variety of educational options within the Euclid City School District. Our offerings range from College Credit Plus, Career Technical Education, and Euclid Virtual Learning Academy to Thrive, ChanceLight at Indian Hills, Panther Academy, STEM education, the ELV Literacy and Sensory Focused School, Preschool programming, Autism education, and various pathways to earning a high school diploma. Should you be interested in exploring these ed-choice programs for your child, we encourage you to contact your school principal for assistance.
While we've achieved significant milestones, we recognize that our journey toward excellence is ongoing. Our overarching goal is to propel student achievement beyond state benchmarks, ensuring our students are well-prepared for the next grade level, high school graduation, and success in higher education or their chosen careers.
We wholeheartedly seek your collaboration in your child's educational journey, as your involvement and support are pivotal to their success.
Your encouragement in completing homework, following teacher instructions, and maintaining regular attendance is crucial. Please be mindful that missing just two days of school each month can result in missing a substantial portion of the academic year, which will lead to chronic absenteeism as defined by the State of Ohio.

Open communication with your child's teachers is paramount, and we encourage you to connect with them through a variety of channels, such as email, phone calls, Infinite Campus, virtual meetings, or in-person visits during office hours. Each of our dedicated teachers sets aside 20 minutes per week specifically for office hours. You can obtain their office hour schedules from your child's principal or teacher, or schedule a face-to-face meeting as needed.

Additionally, dedicating regular time to daily study and homework is a crucial component of academic growth. As a general guideline, students should allocate a minimum of 10 minutes for study or homework per grade level each day. For instance, Third Grade students should aim for 30 minutes, Seventh Grade students for 70 minutes, and Tenth Grade students for 100 minutes or 1 hour and 40 minutes.
In return, we're committed to providing transparent feedback regarding your child's well-being, progress, and academic standing. We welcome your inquiries and concerns about your child's education and well-being. We assure you of our transparency in these matters.
Together, with the collaboration of our dedicated teachers, staff, and parents, every one of our students can achieve greatness. Our shared goal is to cultivate a supportive and nurturing learning environment that empowers each student to excel.
Thank you for being an indispensable part of the Euclid Schools Family. We eagerly anticipate a remarkable academic year in 2023-2024, in partnership with all our families. Below, you'll find links to invaluable resources and information to help you and your child as we commence the new school year.
Warm regards,
Chris Papouras, Superintendent
Euclid City School District
The Euclid City School District is committed to Achievement through:
Every Student

Every Lesson

Every Day
The mission of the Euclid City School district is to provide a high-quality education that engages the whole child to respect diversity, embrace an ever-changing world, and pursue knowledge to become a contributing member of society.
The Euclid City School District, through collaboration with families, community and businesses, will create an individualized, innovative, and effective learning environment in which all students will strive for academic success and holistic well-being.
Take a Virtual Tour of our Secondary Campus
The Euclid Schools educate nearly 5,000 students daily.

The Euclid Schools are comprised of nine school buildings across Euclid, totaling 115 acres of property.

Every school building in the district has been built or renovated in the last 15 years.

Each year, the Euclid Schools Food Service Department serves almost 1,000,000 meals to students year-round.

Out of the nearly 400 teachers meeting the needs of our students, over 75% have their Masters Degree or further education

47 buses and 4 vans transport over 2,700 students over 3,125,000 miles annually.

The Department of Public Safety, comprised of 28 public safety officers, use advanced weapon detection systems and 775 cameras to keep our students safe.

Through our one-to-one technology initiative every student is equipped with an iPad or Chromebook. In total, the District owns over 6,500 technology devices to help keep the Euclid Schools at the forefront of technology.