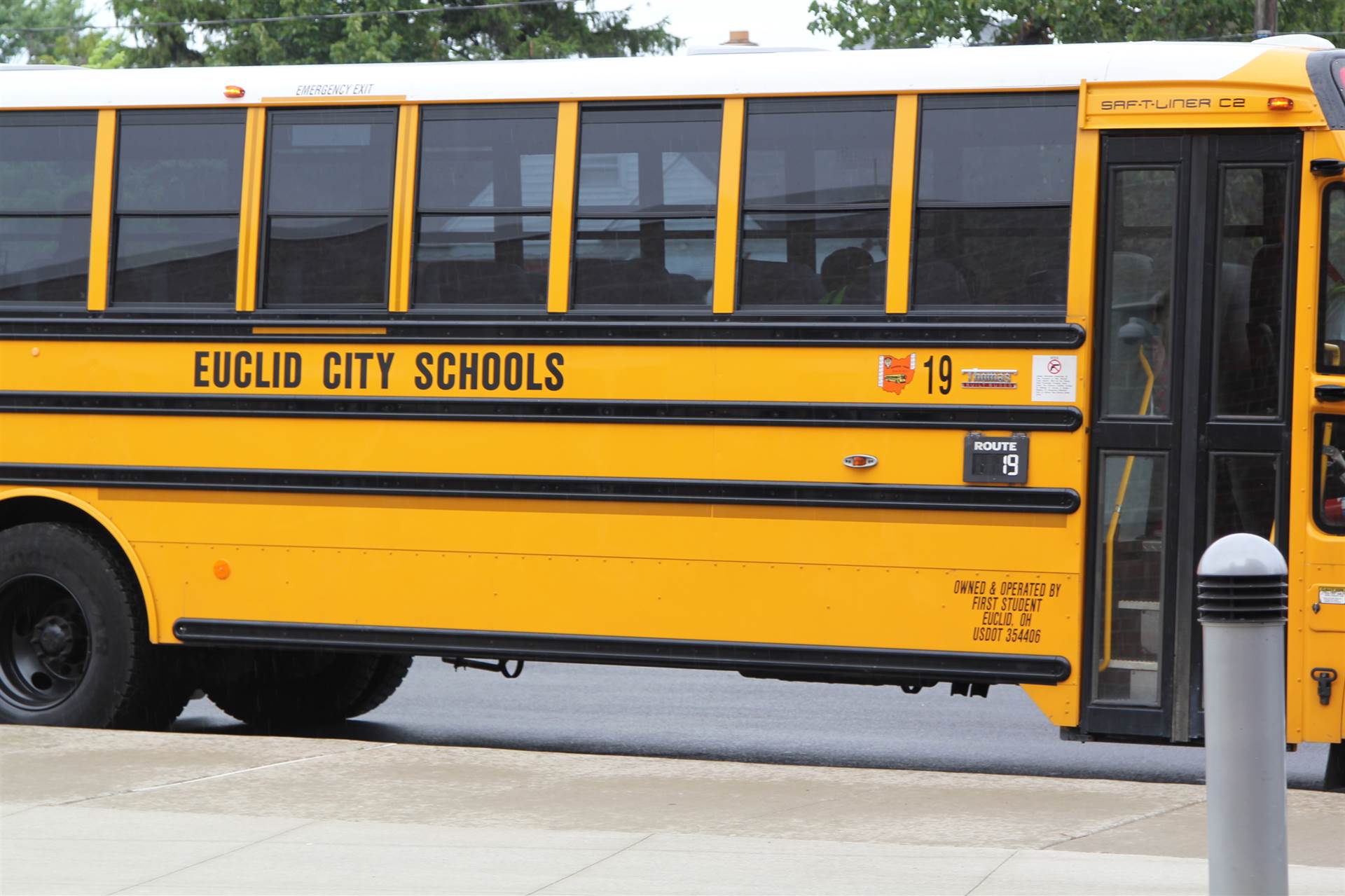 Routes can tend to run slower for the first two weeks of school. Scheduled pick-up/drop-off times are approximate based on the student roster at the time the routes were created. Times may vary due to additional/withdrawn students. Weather conditions, road construction, traffic and train delays can also impact pick-up/drop-off times.
FirstView ParentView by First Student:
Getting Started
1. Download the FirstView ParentView App
Go to web.firstviewapp.com or find FirstView in the App Store or Google Play. Follow the instructions to download the app to your smartphone and create an account
2. Set Up Your Profile
Open the ParentView app from your home screen and begin the registration process. You'll be asked to:
a. Select State/Province: OHIO
b. Select District: EUCLID
c. District Code: P2GW
d. Route Name:
You'll then be prompted to REGISTER*.
*Registration information pertaining to your student's route is provided by your school district. FirstView Customer Support cannot provide this information to you.

3. Follow a Route
Once you have confirmed your account, login and select Profile to "Add A Student" with the information you received from your school district. Next, you will select AM/MID/PM Route, search for your route name and select your school (if applicable).

4. Setup Distance Alerts
To setup alerts for tracking the bus, you will be prompted to "Configure Notification". Select the location you want to track the bus to, choose a geofence size around your location, and set your time range. When the bus enters your geofence within the time range selected, you will get a notification that the bus is near. Students should still be at their assigned bus stop 10 minutes prior to the scheduled arrival time.
5. Receive Notifications
Go to Settings and select "Notification Recipients" to add email notifications for up to 3 recipients, including yourself. From this screen, you can also edit your Profile or follow another route. Alerts and notifications from your district or the bus depot will appear under Notifications in the menu.
*To receive push notifications, you must allow your mobile device to receive notifications from the FirstView app. You will be prompted upon downloading the app or you can confirm/update your settings within your phone's app settings.

6. Ask for Help or Give Suggestions
FirstView provides a dedicated customer support team Monday through Friday to assist you:
· Call toll-free 888-889-8920 from 7:00 a.m. ET to 5:00 p.m. ET
· Email Customer Support at support@firstviewapp.com
Frequently Asked Questions
Contact Information
Samantha Ballah
First Student Location Manager
216.797.7601
John Rinehart
First Student Assistant Location Manager
216.797.7600

Committed to our customers:
We keep our customers at the heart of everything we do.
Dedicated to safety:
Always front of mind, safety is our way of life.
Supportive of each other:
We trust each other to deliver and work to help one another succeed.
Accountable for performance:
Every decision matters, we do the right thing to achieve our goals.
Setting the highest standards:
We want to be the best, continually seeking a better way to do things.
Resources
Information from the Ohio Department of Education on the safe transport of students.
Transportation Change Request Form
The form to for transportation change requests, please click above to download and print.