Don't miss our two upcoming Holiday Concerts! The High School will perform on Tuesday 12/13 and the Middle School will perform on Thursday 12/15. Both Concerts will be held in the newly renovated Euclid High School Auditorium!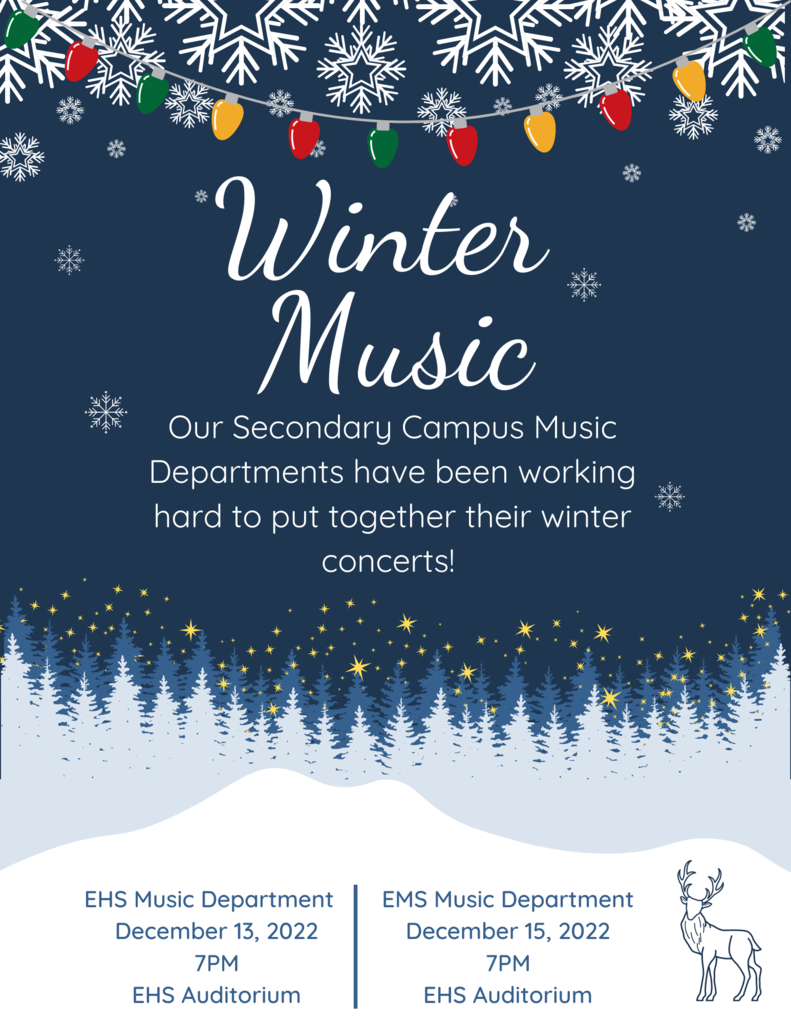 Santa is stopping by Euclid High School! Join us on Saturday, December 17th for breakfast, crafts and holiday cheer!

Third Grade Reading Guarantee Research shows that children who are not reading at a third grade level by the end of grade three will likely have difficulty learning in all classroom subjects in higher grades. Ohio's Third Grade Reading Guarantee (TGRG) is a program to identify students from kindergarten through grade 3 who are behind in reading and ensures that a support plan is put in place to help each child achieve reading success. Current state law requires students to pass the 3rd Grade English Language Arts State Test in order to be eligible for promotion to 4th Grade. Be sure to check the Infinite Campus Portal on Tuesday, November 22nd for a letter informing parents/caregivers if their Kindergarten through third grade student(s) is On-Track or Off-Track to meet the (TGRG) requirement. Additionally, any student that is "Off-Track" will have a Reading Improvement and Monitoring Plan that is also available in Infinite Campus. Please reach out to your child's teacher to have them further explain the Reading Improvement and Monitoring Plan that has been created for your child and how you can help.

Today is the last day to register for our Thanksgiving Food Distribution. If you plan to join us, please scan the QR code to register. Distribution will take place at the Middle School from 4pm - 6pm.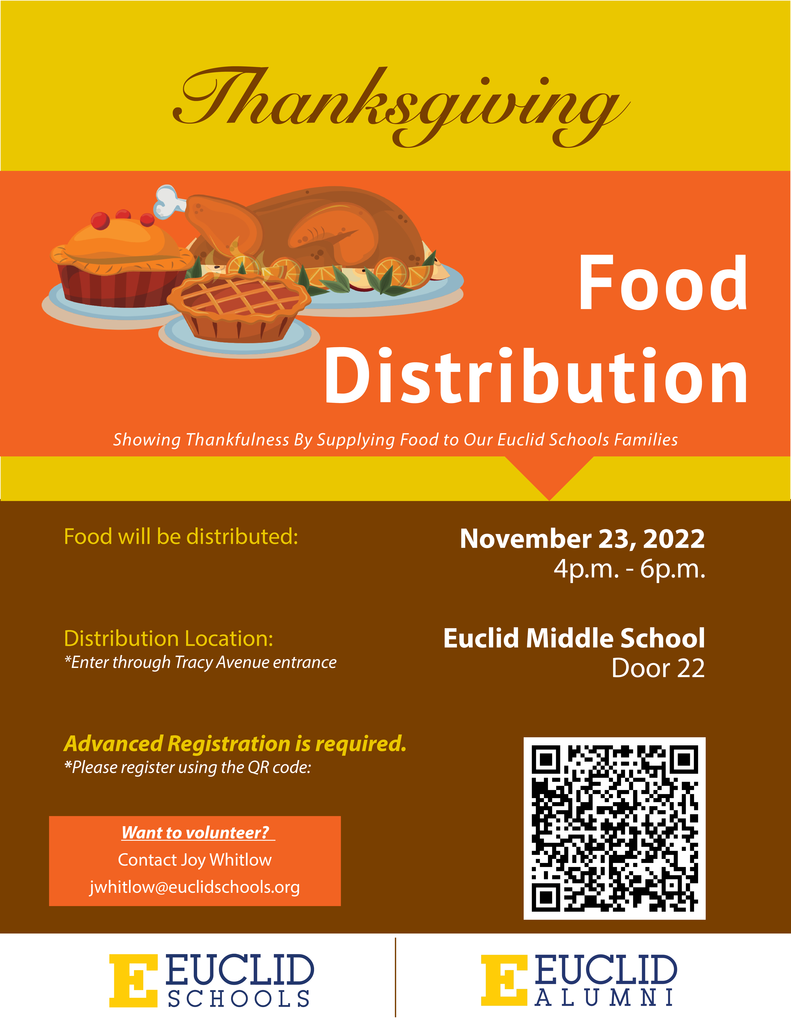 We are one week away from our Thanksgiving Food Distribution. Join us from 4pm - 6pm at the middle school for pick up. Advanced registration is required. Scan the QR code below to register.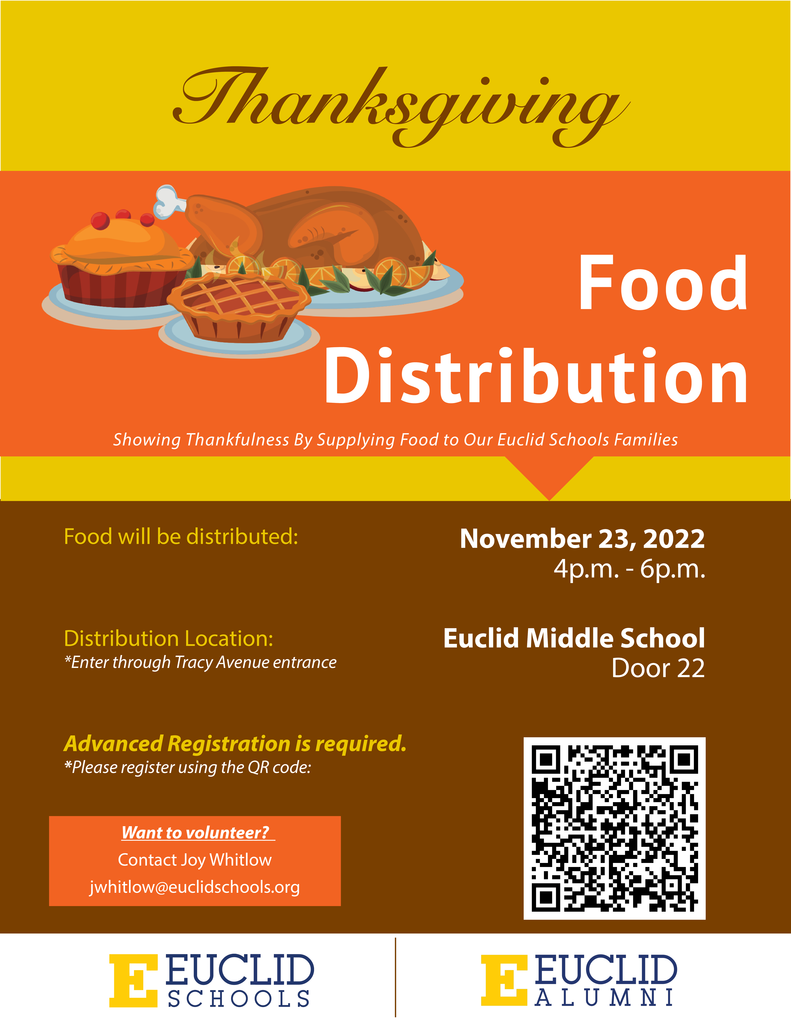 Happy Veterans Day! Euclid Schools thank all who have served for their service.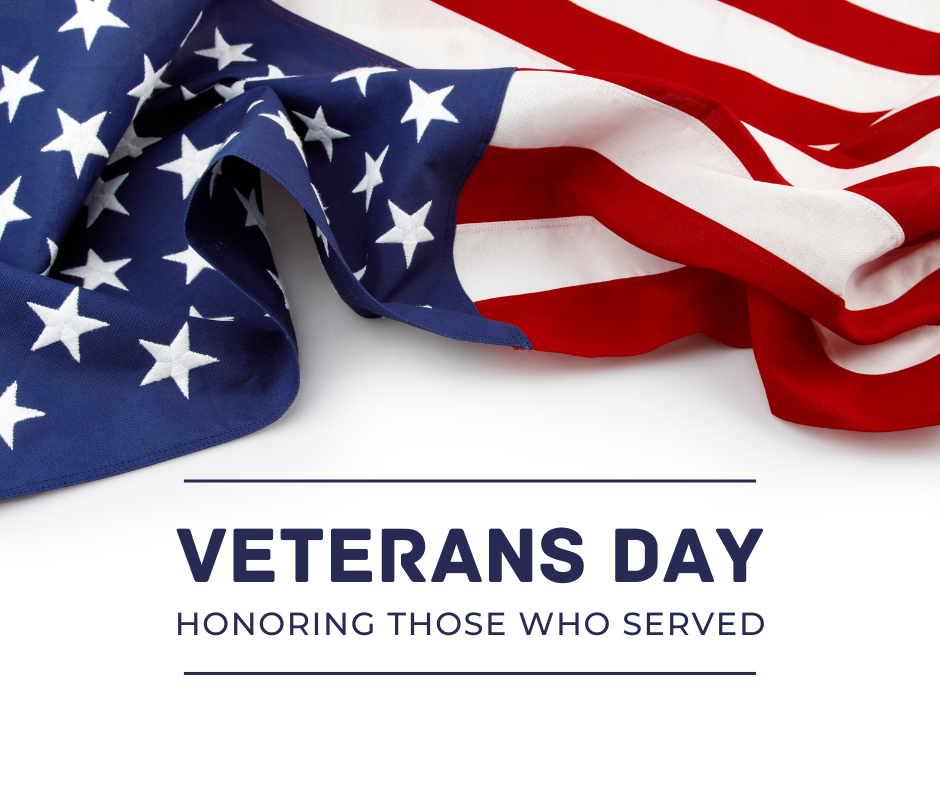 The season of giving is upon us! This Thanksgiving we are partnering with the Euclid Alumni Association to provide food to families for the holiday. If your family is in need, please join us on November 22nd for our Thanksgiving Food Drive. Register using the QR below.

Tomorrow Heaven's Pantry will host a food, clothing and gas card distribution at Euclid High School from 9am - 12pm. This event is sponsored by Operation Ten City and free to the public. Be sure to head over tomorrow while supplies last.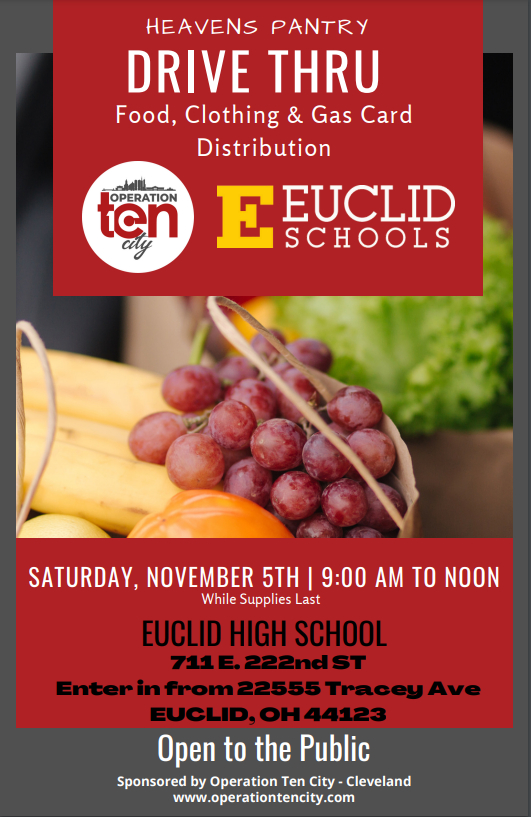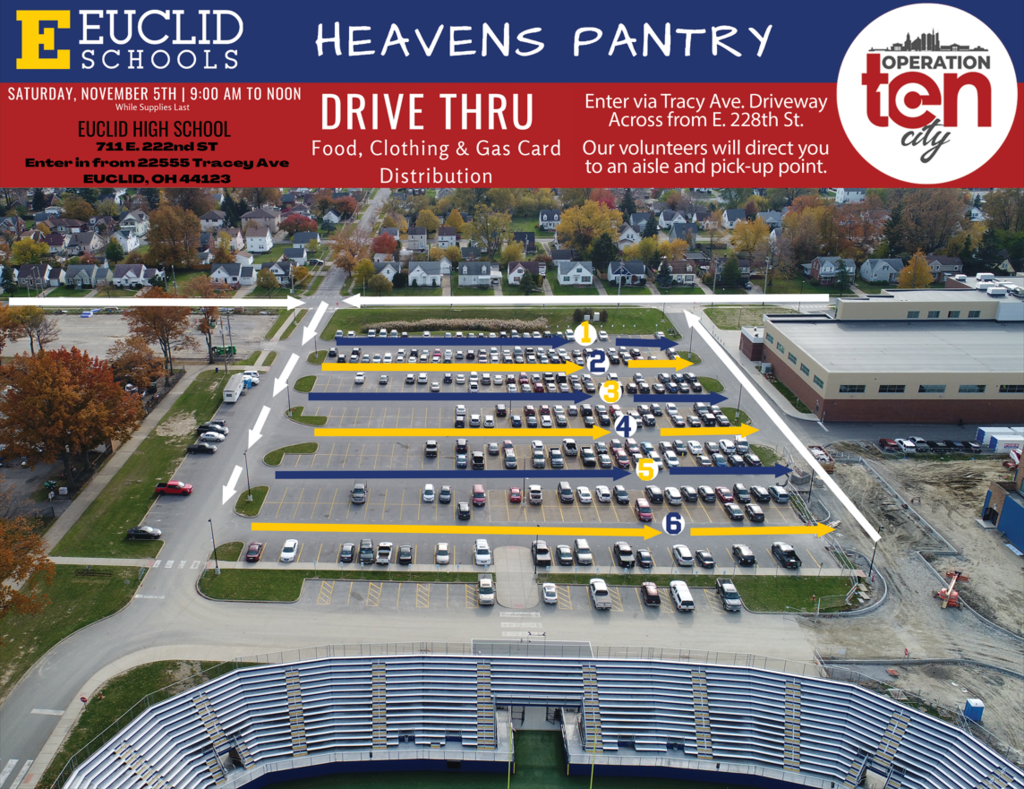 This morning Principal Russell met with Euclid's senior community for Popcorn with the Principal at the Euclid Senior Center. Euclid senior residents grabbed some popcorn while Mr. Russell shared the great things that are happening at Euclid High School.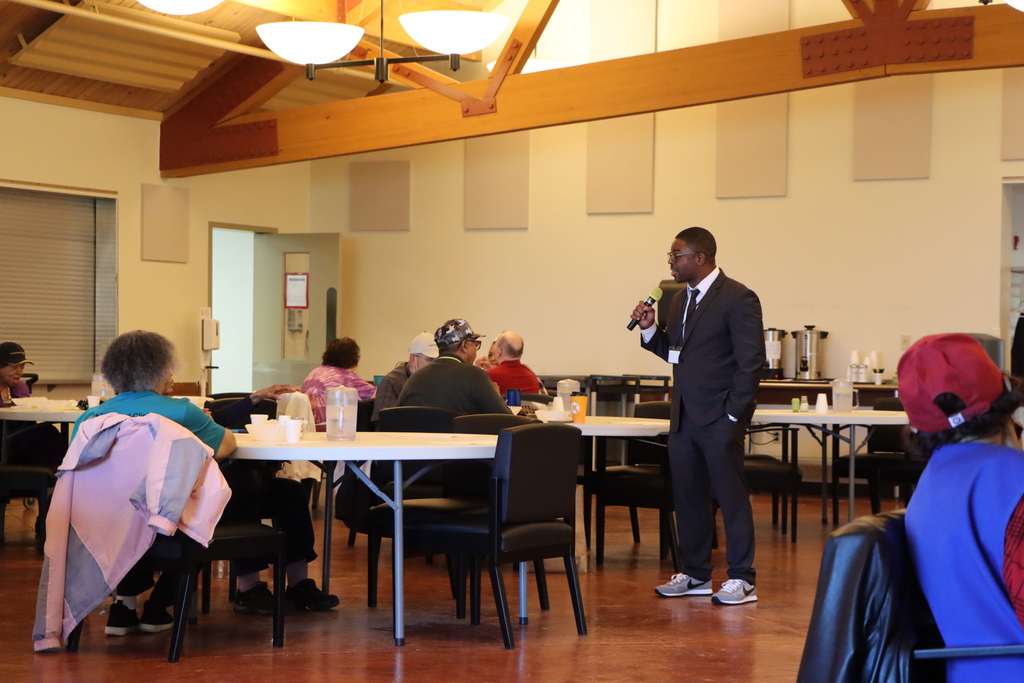 Join Euclid High School Principal Corey Russell at the Euclid Senior Center on Wednesday, November 2nd at 11:00 am for Popcorn with the Principal! This will be an opportunity for Euclid's Senior Community to meet Mr. Russell and learn about the wonderful things going on at EHS. Mr. Russell will be sharing about the many goals, initiatives and opportunities EHS has to offer, including the Focus 3 program that the High School is using to help redefine what it means to be a Panther and strengthen the Euclid Community.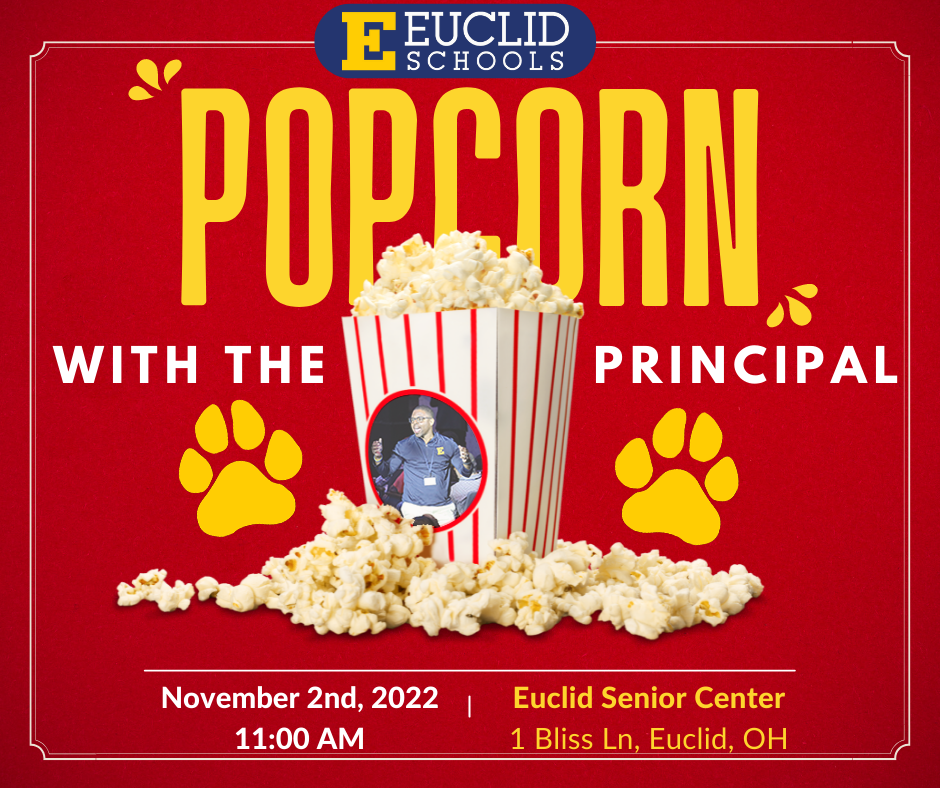 With great sadness, we inform you of the loss of one of our Early Learning Village students and parent in a fire yesterday. This evening the ELV team will make phone calls to the families who shared the same classroom. We do not have any additional information at this time. We wish to provide the family with privacy as they deal with this extremely difficult situation. We know the loss of a classmate and friend can be a very difficult experience, especially for young children. We will have counseling staff available at the Early Learning Village this week to help anyone who may need their assistance. We have also included a link that provides suggestions and resources to help children deal with grief:
https://www.nasponline.org/resources-and-publications/resources-and-podcasts/school-safety-and-crisis/guidance-at-a-glance
The best support for your children during this time may be to continue their normal daily routines, including going to school and attending extracurricular activities. If you have concerns, questions, or need support for your family, please do not hesitate to contact the Early Learning Village at (216) 797-4700.

We hope to see you tonight at Euclid Criminal Justice Program's Trick or Treat Night!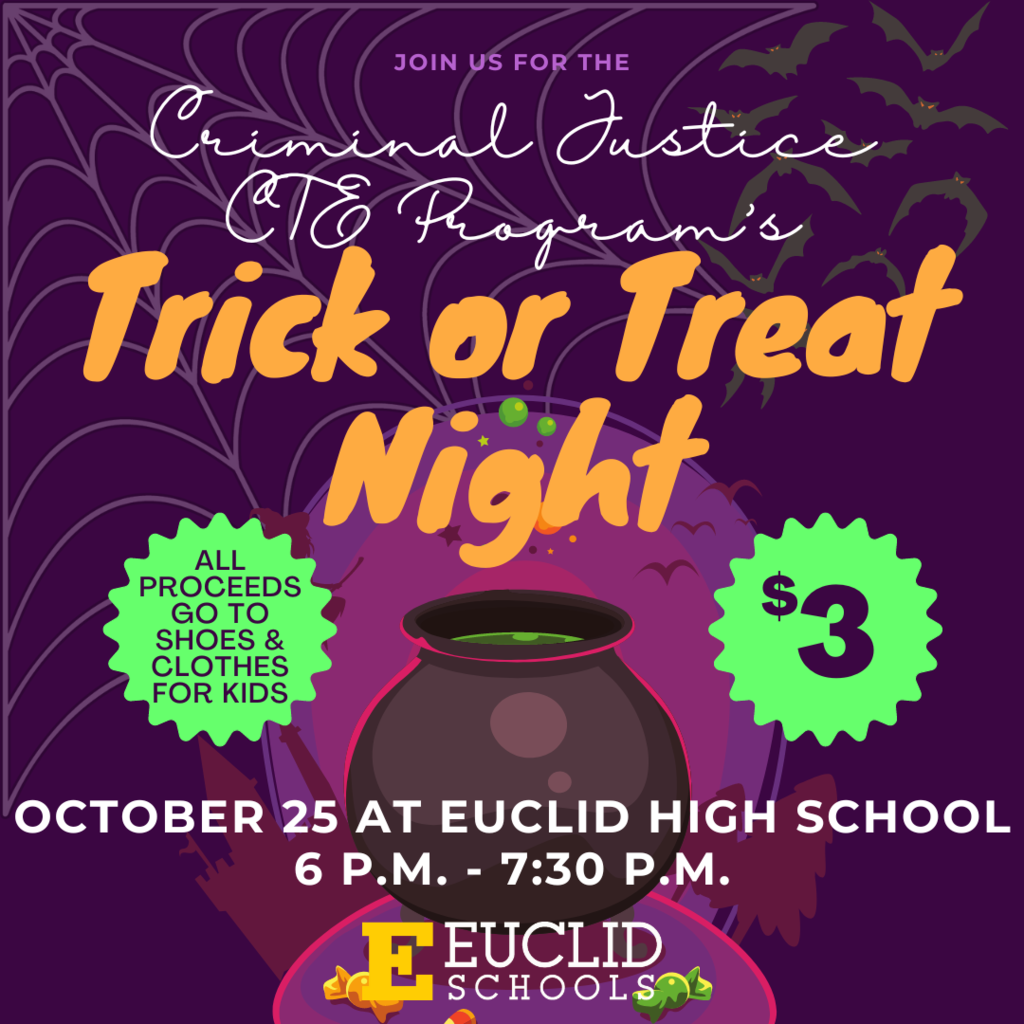 Tomorrow our Criminal Justice Career Tech Students are throwing a Trick or Treat Night at the High School from 6:00pm - 7:30pm! Over 30+ teachers, staff and students will be there to pass out candy! Participants must be Euclid Residents and 12 years old and younger. #OneEuclid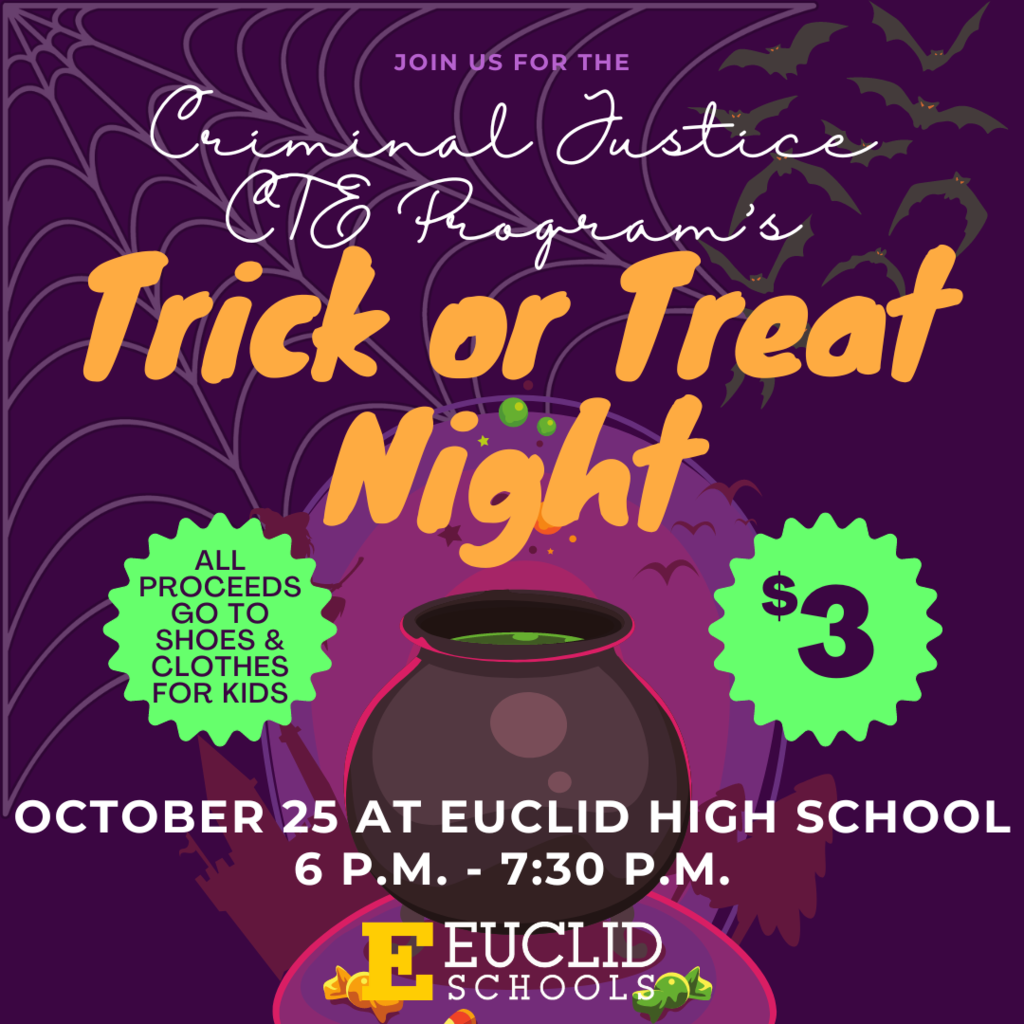 Be sure to join us for our final game of the season and senior night as our Euclid Panthers take on the Mentor Cardinals! #OneEuclid

Remember there will be NO SCHOOL for Euclid Students K-12 tomorrow, Wednesday, October 19th for a Teacher Professional Development Day.

Our Substitute Teaching Partner, The Renhill Group, will be hosting Open Interviews at the Fordyce Administration Building next Wednesday, October 26th, from 10 AM - 1 PM. If you are interested in Substitute Teaching, this is an excellent opportunity to get your start!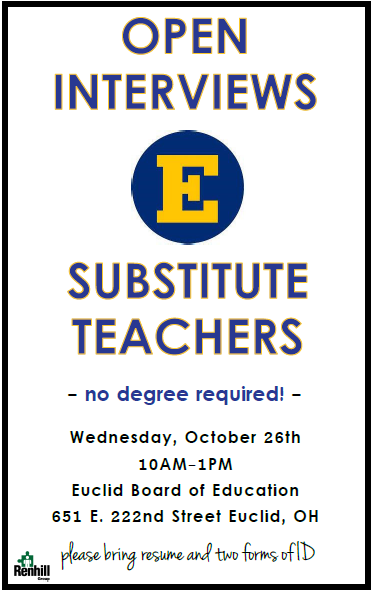 Check out our first official Euclid Schools Panther "Pawdcast" with Superintendent Papouras!
https://on.soundcloud.com/XMJGa
Superintendent Papouras and Chelsea Blaha sit down to introduce the podcast format and recap Homecoming Weekend! #OneEuclid

Tomorrow is NEOEA Day! There will be no school for students.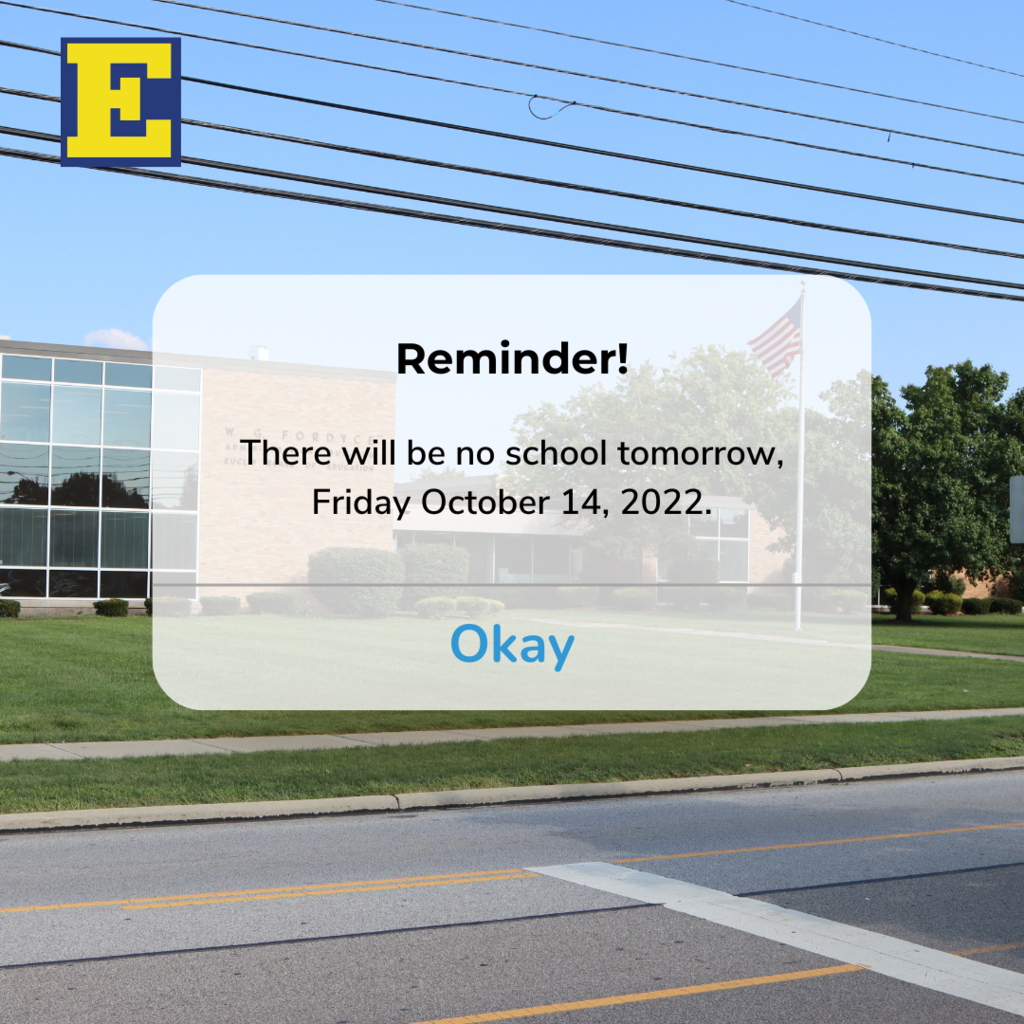 Don't miss our Fall Band & Orchestra Concert this evening! The Middle School Band and Orchestra and High School Orchestra look forward to "Trick or Treating" you to a spooky night of music! Where: EMS Cafeteria, 22555 Tracy Ave. Euclid, OH When: Tonight, 7 PM #OneEuclid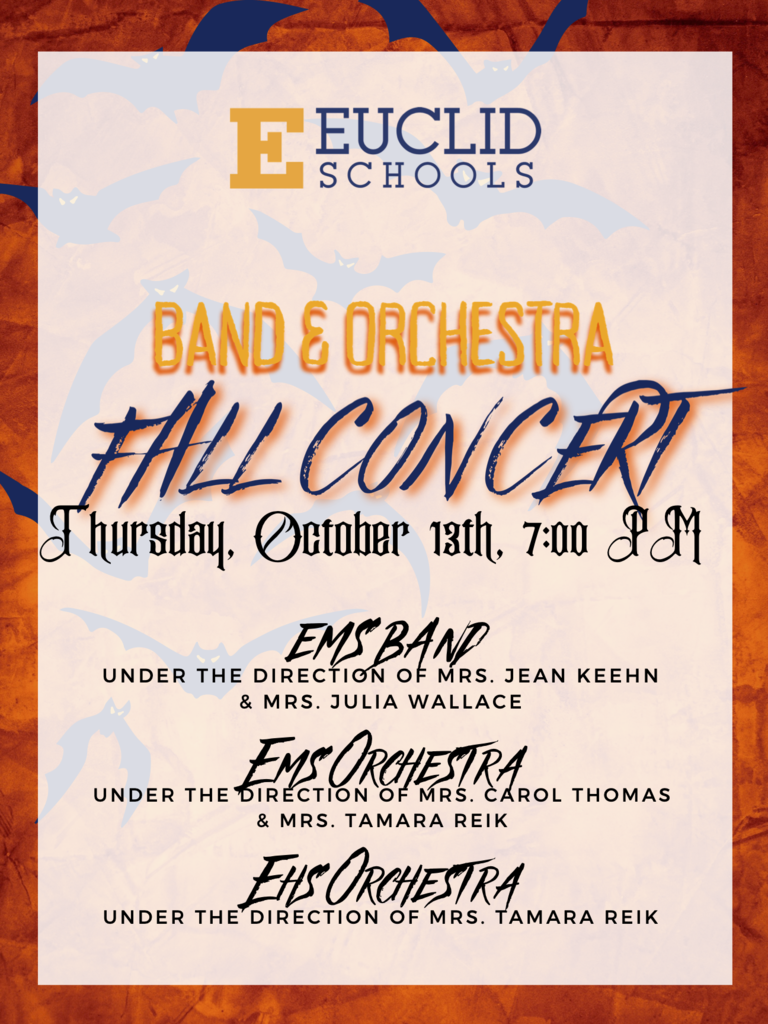 Calling all parents of College-Bound EHS Seniors! Make sure to join us for FAFSA Night in the Little Theater. This event will help you fill out your FAFSA information to make sure you take advantage of any financial aid that is available to you!